It's a Meade Visiomar and it's a 60mm refractor with a 20 to 60 times zoom. It came with an LED finder scope (that's the thing bolted to the side that creates a red dot apparently in the sky - put the dot on the object you want to look at and you'll know that the scope is pointing at it), a table-top tripod, a carrying case and a paperback book on the night sky.
Despite its size (it's roughly 60cm long), it is powerful enough to not only give a pretty good view of Jupiter but to see some of the moons of Jupiter too. I actually thought I was seeing some sort of lensflare initially until I checked with Stellarium and it showed the moons of Jupiter arranged in almost a straight line just like I had seen! I can see Ganymede, Calisto and Europa. Io is too close to Jupiter to resolve. The other planets are out of view at night at the time of writing this. UPDATE: thanks to a better alignment, I have now manged to see Io as well.
It would be nice to be able to take some photographs through it. That's a bit tricky as once you've mounted a digital camera to the eyepiece, it's very difficult to aim and focus the scope. One thing you do quickly notice is that once you start using high magnifications, the motion of the object you're looking at becomes very apparent. I have now bought a digital camera mounting kit but it's all a bit of a lash-up.
However, here's a picture I took of the Moon just holding my digital camera up to the eyepiece without any mounting kit: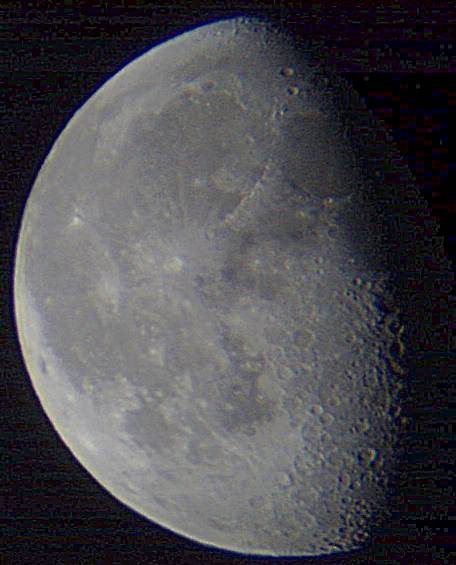 This isn't the original image. I processed it by cropping it, applying an unsharp mask and tweaking the gamma and contrast a bit. The image here has also been scaled down to half the original size. If I can get pictures like this without a steady mount, then I'm hoping they'll be even better once I get the mounting worked out.
<Back>